An Unlikely Interview with Carrie Cuinn
How to Recover a Relative Lost During Transmatter Shipping, In Five Easy Steps, seems like one of those titles just begging for a story, so which came first, the story or the title?
They both popped into existence at the same time. I knew, when I heard the title in my head, what the story would be about. As I wrote and revised, the structure of the story changed a little, but the title still fit perfectly, so I got to keep it.
When you travel or visit a new area, are you the kind of person who likes to use a map (or GPS) to get to know the place, or do you prefer to explore and figure things out as you go along? Similarly, when it comes to fiction, do you outline, or do you start writing and find the story that way?
I like to research ahead of time, learning the map and directions to the places I plan to visit. Once that's settled in my head, and I can picture the geography all around me, I make a point to put the map aside and explore without it. I refer back to the map if I take a wrong turn, but if I try to rely on my visual memory, I'll memorize a place much faster than if I wandered aimlessly or used a GPS to tell me when to turn left.

Authors are notorious for working strange jobs. Stephen King was a janitor and J.D. Salinger worked as the entertainment director on a luxury cruise line. What's the weirdest job you've ever had, and did it inspire any stories or teach you anything you've used in your writing?
I'd like to think that everything I've done has inspired me and taught me. For the most part, I've worked a lot of office jobs. People often think of administration and management as boring and forgettable, but I've been able to work in vastly different industries because those skills translate from one office to another. I've worked for one of the largest Shakespeare festivals in the US, a non-profit law firm that specialized in getting non-violent criminals released on their own recognizance, a metropolitan YMCA, a single-doctor psychiatrist's office, the company that created and administers the GRE test, a tech firm which makes microtools for scientists studying crystallized proteins at synchrotrons.
It was sitting around the lunchroom table with a couple of shipping clerks that made me picture a world where those low-paid, smart but not well educated, cheerfully goofy guys, could change everything, by accident. (That same week also inspired a story about buying shipping containers for fertilized dinosaur eggs, and it wasn't even an unusual week.) Stories are everywhere. We don't need to go looking for strange for it to find us.

One of the perennial points of contention in the world revolves around education — who should get educated (and to what degree), what should be taught, who should be excluded. Meanwhile, children in their classrooms ask, "Why do I need to know this?" Tell us one obscure thing you learned in school that you think is important, and why.
The first printing press in the United States was brought over before the country existed. In 1638, a Puritan clergyman put his wife and his printing press on the John of London, a ship bound for New England, but he died before the ship reached our shores. Luckily, his assistant, Stephen Daye, was able to establish the press in Cambridge, before Harvard University took it over.
But, wait, how did a tiny seminary school get control of the first — and at that time, only — printing press in the colonies?
When the Reverend Joseph Glover perished at sea, his press became the property of his wife, Elizabeth. So did Mr. Daye, formerly a locksmith. For £51, the cost of passage for Daye and his household (one wife, two sons, a stepson, and three servants) and the purchase of cooking tools, Glover had contracted Daye, to set up the press once they'd gotten it off the ship. Elizabeth could have sold the press, gone back to England, but she doesn't. This 17th-century Puritan woman establishes a business, allows Daye to carry on her late husband's work, and two years later, marries Harvard's first president, Reverend Henry Dunster. With the press under Harvard's protection, it wasn't subjected to the usual Puritan rules. They printed the first book in North America, and almanacs and leaflets, including those with differing religious viewpoints. Harvard resisted attempts to limit what their print shop could produce, and set a precedent for freedom of speech. In 1781, the press was brought to Westminster, Vermont, where the colonists used it to produce The Vermont Gazette, which inspired them during the Revolutionary War.
Elizabeth ensured that printing in what would become the United States was, from the very beginning, associated with freedom, and the spread of knowledge, and almost no one knows who she is.
That story is important to me because it's another example of women having a powerful effect on history without being remembered that way. All of us that are considered to be on the edges of society — women, people of color, those whose gender presentation and sexuality don't conform to the "norm" of the day — we've always been here. We've always made a difference. It's just the knowledge of that fact which is sometimes lost.
We all have our favorite authors, some of whom everyone has heard of, and some of whom are relatively obscure. Who is one of the more obscure writers you love? What do you love about their work? Tell us which story or novel of theirs we should drop everything to read right now.
That list is impossibly long. Anyone I mention will be wonderful, but there are so many authors I will fail to mention who are just as amazing. Over time, they become less obscure, which makes me very happy. I love Bee Sriduangkaew's work, for example, and she's recently been shortlisted for the Campbell award, and had work appear in Clarkesworld, bought for Tor.com, and so on.
I think that reading short fiction gives you an opportunity to get to know new, young, returning, and diverse, authors. My magazines right now include Clarkesworld, Beneath Ceaseless Skies, Shimmer, Apex Magazine, Crossed Genres 2.0, Lakeside Circus (see below), Lackington's, Fireside Fiction, Strange Horizons, Interstitial Arts, Andromeda Spaceways Inflight Magazine, Lady Churchill's Rosebud Wristlet, Polyphony, Goblin Fruit, Stone Telling, and of course, Unlikely Story. If you read just one issue from any one of those magazines each month, you'll discover something new.
We all start somewhere, and the learning curve from first publication is a steep one. What's your first ever published work, and how do you feel about it now?
I started in journalism so my earliest publications were newspaper articles. I moved on to pop culture reviews and non-fiction articles, long before I started publishing fiction. I published in lit journals and music magazines and even wrote comic books. All of that experience was valuable; it taught be how to be a writer, and to see "literary" and "genre" as all part of the same industry.
When I finally got to submitting genre fiction to markets, it was after decades of reading, scribbling in notebooks, writing novels I recognized were… not good… My first published fiction was a poem. About vampires.
Which just goes to show that there's always room for improvement.
What else are you working on have coming up you want people to know about?
I am currently writing two novels and a number of short stories, which I hope you'll see soon. Later this year, I'll have a story in the all-female Lovecraftian anthology, She Walks In Shadows; a fun piece for the anthology of imaginary tomes, The Starry Wisdom Library; some SF poetry; a couple of non-fiction essays on book history and construction. Hopefully, there'll be a few more short story publications in there, too.
I also edit an amazing magazine of short speculative literature and poetry, Lakeside Circus. We print only work under 2500 words, to focus on the amazingly deft writing possible in shorter lengths. Please check it out online at www.lakesidecircus.com — it's one of my all-time favorite projects.
Carrie Cuinn is an author, editor, bibliophile, modernist, and geek. In her spare time she listens to music, watches indie films, cooks everything, reads voraciously, publishes a magazine, and sometimes gets enough sleep. You can find her online at @CarrieCuinn or at http://carriecuinn.com.
STEP RIGHT UP! GET YER CLOWNS HERE!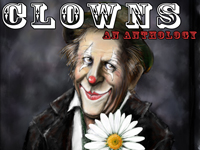 Clowns: The Unlikely Coulrophobia Remix is hot off the presses! So get your hot, pressed clowns today! Or if you prefer your clowns cold-pressed, never fear. A clown is nothing if not adaptable.
22 tales to horrify and delight, by authors Derek Manuel, T. Jane Berry, J.H. Pell, Jeff Wolf, Kristen Roupenian, Carolyn M. Yoachim, Mari Ness, Evan Dicken, Carlie St. George, Line Henriksen, Virginia M. Mohlere, Dayle A. Dermatis, Jason Arias, Joe Nazarre, Karlo Yeager-Rodruigez, Sara K. McNeilly, Chris Kuriata, Cassandra Khaw, Cate Gardner, Charles Payseur, Chillbear Latrigue, and Holly Schofield, with an introduction by Robin Blyn and illustrations by Bryan Prindiville.