An Unlikely Interview with Sarah Pinsker
How a Map Works features at least two instances of characters trying to describe a concept like 'map' or 'mountain' to someone with absolutely no frame of reference for understanding the object being described. This leads to a lovely moment between your main character and her daughter as she finds gestures and actions to convey 'near', 'far', 'goat', and other things Nomi has never experienced. Was the idea of communication and the ways it can break down and be mended something you specifically set out to explore with this story?
Yes! I wanted to try to figure out how you would explain the concepts in a map to somebody who had no frame of reference, as you said. But also the idea that everything on a map is a symbol in any case. We've accepted that certain symbols represent certain features, and we tend to think of them as universal. The challenge in the story is to find a new symbolic language when the old one can't be used. (Your question is so well observed there isn't really much I can add!)
Your novelette, In Joy, Knowing the Abyss Behind is nominated for a Nebula Award this year. Congratulations! How did you get the news, and how did you react/celebrate when you did?
I got a call, but then I had to keep quiet for a few days. I had dinner with good friends that evening and celebrated with an epic feast. Actually, it turned into even more of a celebration than I had planned, since the restaurant kitchen was running slow and they kept bringing us free drinks to make up for it. The catch with the phone call is that you're not allowed to tell anybody you've been nominated until the list comes out officially. I was lucky enough to be eating with very good friends, unconnected to the SF community. I could trust them not to blab. Otherwise I'd still have been feasting and celebrating, but they wouldn't have known why. Then more celebrations after the formal announcement.

When you travel or visit a new area, are you the kind of person who likes to use a map (or GPS) to get to know the place, or do you prefer to explore and figure things out as you go along? Similarly, when it comes to fiction, do you outline, or do you start writing and find the story that way?
On my way to a place, I use a map or GPS, but somewhere along the way I almost always decide I know better than what my directions are telling me, a habit which has led me to some very wrong turns. The wrong turns are often more interesting than the places I'm supposed to be, and I do love exploring.
As for fiction, it's kind of similar. I set off knowing my starting point and my destination, but the destination is a little squirrely and sometimes changes places before I get there.
Authors are notorious for working strange jobs. Stephen King was a janitor and J.D. Salinger worked as the entertainment director on a luxury cruise line. What's the weirdest job you've ever had, and did it inspire any stories or teach you anything you've used in your writing?
Not too many weird jobs for me. All I ever did prior to my current gig was work with horses and make music. (Or maybe those things are weird? I have no distance from it.) I worked as a horseback trail guide, and I ran riding programs at a couple of girl scout camps. I haven't written many music stories, but there's a ton of stuff I've learned from making music that applies to writing. Really, it's a great background for writing, since I've been all over and passed through some very weird places. I've spent a night in a robot mansion, and one in a hunter's trophy room. I found a town that doesn't exist. Stuff like that.

One of the perennial points of contention in the world revolves around education — who should get educated (and to what degree), what should be taught, who should be excluded. Meanwhile, children in their classrooms ask, "Why do I need to know this?" Tell us one obscure thing you learned in school that you think is important, and why.
I had a teacher in primary school who took it upon herself to teach us one folk song every week (she also made us memorize poetry). I'm not sure that precise thing is the thing for everyone, but it actually was very helpful, not least because I became a folk musician. Years later, I found myself on a stage at a Phil Ochs tribute concert. There was a big closing number with everybody singing. "Can you get close enough to one of the lyric sheets?" his sister Sonny asked me. "I know this one by heart," I said.
But folk music is often about concrete events, and it's about people, and I think I learned a lot about history from those songs. Oral tradition.

We all have our favorite authors, some of whom everyone has heard of, and some of whom are relatively obscure. Who is one of the more obscure writers you love? What do you love about their work? Tell us which story or novel of theirs we should drop everything to read right now.
Kathe Koja wrote a novel called Skin that I absolutely adored. I should probably reread again it before I endorse it fully, since it's been years, but I just remember being blown away by her style. I tried to emulate it for ages. It was a book about these amazing metal sculptures, and some really extreme performance art. She's mostly written horror, I think, and I'm not a big horror reader so I haven't read her whole catalog. I've got her recent YA novel, which I've heard is also good, but I haven't gotten to read it yet.
We all start somewhere, and the learning curve from first publication is a steep one. What's your first ever published work, and how do you feel about it now?
My first ever published work was probably a story I had in a Jewish women's magazine when I was still in high school. I used it to get into Madison Smartt Bell's writing seminars at Goucher. I found it recently, and I have to say it's not too bad. A little adverb heavy and a little dramatic, but readable.
What else are you working on have coming up you want people to know about?
I've got a half-finished novel, and in the wings, an idea for one set in the world of this story. Other than that, I'm really happy to have a flash piece in Lightspeed's Women Destroy Science Fiction! Issue, which is out this month. I have a couple of other pieces in the queues at Lightspeed and Asimov's that I'm very pleased with as well.
Sarah Pinsker is the author of the novelette "In Joy, Knowing the Abyss Behind," a 2013 Nebula finalist and 2014 Sturgeon Award finalist. Her fiction has been published in magazines including Asimov's, Strange Horizons, Fantasy & Science Fiction, and Lightspeed, and in anthologies including Long Hidden, Fierce Family, and The Future Embodied. She lives in Baltimore, Maryland. She can be found online at www.sarahpinsker.com and twitter.com/sarahpinsker.
STEP RIGHT UP! GET YER CLOWNS HERE!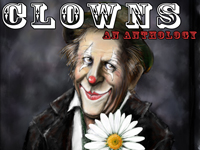 Clowns: The Unlikely Coulrophobia Remix is hot off the presses! So get your hot, pressed clowns today! Or if you prefer your clowns cold-pressed, never fear. A clown is nothing if not adaptable.
22 tales to horrify and delight, by authors Derek Manuel, T. Jane Berry, J.H. Pell, Jeff Wolf, Kristen Roupenian, Carolyn M. Yoachim, Mari Ness, Evan Dicken, Carlie St. George, Line Henriksen, Virginia M. Mohlere, Dayle A. Dermatis, Jason Arias, Joe Nazarre, Karlo Yeager-Rodruigez, Sara K. McNeilly, Chris Kuriata, Cassandra Khaw, Cate Gardner, Charles Payseur, Chillbear Latrigue, and Holly Schofield, with an introduction by Robin Blyn and illustrations by Bryan Prindiville.