minotaur_makes_it_all_better-72dpi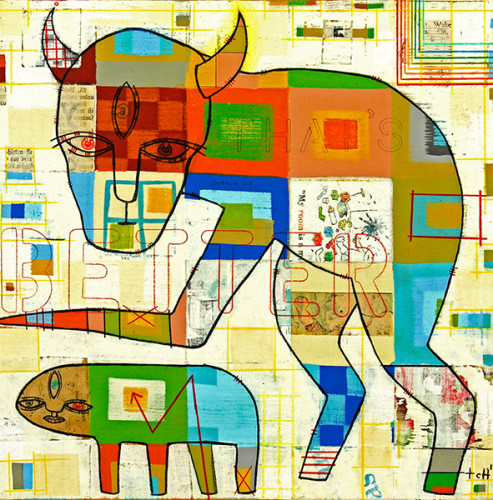 thomas christopher haag was born in wichita, kansas into a family as vast as the sea. he took chemistry and math classes for some reason at the university of kansas and then dropped out and started hitchhiking. he has lived in southern mexico, switzerland, india, spain, the pacific northwest, the great american southwest, and now, oakland, california. when he's had to work, he's been a commercial diver, propman, art director, low-volume smuggler, curator and gallery owner. he also once worked for eleven days in a dog food factory where they made kibbles'n bits, but he prefers to paint.
an avid muralist, both commissioned and not, he has painted buildings in oaxaca, barcelona, venice, albuquerque, varinasi, bangkok, rangoon, seattle, portland, los angeles, new orleans, oakland, and many other places, under the names "detach," "stove" and "el pituitario." he has exhibited with the likes of shepard fairey, chaz bojorquez, swoon, gaia, slinkachu, henry chalfant, mark jenkins, chris stain, and chip thomas.
using "reclaimed" housepaint taken from chemical disposal facilities, found wood, and discarded books, he constructs multi-layered, collaged paintings and assemblages which reference ancient cultures and spiritual traditions, but with just a hint of smart-ass. homages to criminal saints, a bodhisattva telling a fart joke, events of divine banality and cosmic significance, stripped of pretense or stuffed with it. either way, it is all holy shit.
STEP RIGHT UP! GET YER CLOWNS HERE!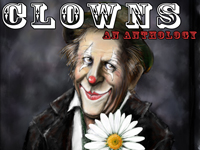 Clowns: The Unlikely Coulrophobia Remix is hot off the presses! So get your hot, pressed clowns today! Or if you prefer your clowns cold-pressed, never fear. A clown is nothing if not adaptable.
22 tales to horrify and delight, by authors Derek Manuel, T. Jane Berry, J.H. Pell, Jeff Wolf, Kristen Roupenian, Carolyn M. Yoachim, Mari Ness, Evan Dicken, Carlie St. George, Line Henriksen, Virginia M. Mohlere, Dayle A. Dermatis, Jason Arias, Joe Nazarre, Karlo Yeager-Rodruigez, Sara K. McNeilly, Chris Kuriata, Cassandra Khaw, Cate Gardner, Charles Payseur, Chillbear Latrigue, and Holly Schofield, with an introduction by Robin Blyn and illustrations by Bryan Prindiville.